Research & Development
As one of the few forward-thinking robotic solar cleaning brands, we always strive to research and develop new concepts that could further improve our brand and product line.
Our pioneering research and development efforts have brought us a lot of information and have put many new developments in the focus. The Cerebro robot is obviously one of them - being researched and developed for years, becoming a state-of-art cleaning robot that provides the best cleaning service for solar plants in a cost-effective way.
In a hyper-connected world as the one we are living in nowadays, many see solar innovation as the future of energy and the environment.
Our team Pisotta not only shares this thoughts - we are actively working on cultivating and developing new technologies. By constantly researching and developing new concepts, we are always on the hunt for new concepts and new ways of improving the performance of solar panels and monitoring their state.
From our inception, we have been standing shoulder-to-shoulder with the leaders in this industry on a global level - and a large part of that is thanks to our continuous research and development.
Pisotta is actively pioneering technologies for the solar market - providing clients with reliable solutions and embracing solar in the best way possible.
The Cerebro Robot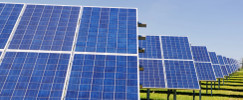 An Intelligent And Fully Autonomous Cleaning Service For Solar Plants.
The Cerebro Robot is our biggest innovation - and a product that is optimized to fulfill the cleaning needs of solar plants in a cost-effective way.
What started as a general idea of improving the cleaning efforts on solar panels led us to a lot of research and development into creating this robot. The Cerebro unit has a light structure without additional frames and guides - allowing it to clean solar panels seamlessly and perform the task over any systems, regardless of their specifications.
More