Careers
We are always in need of exceptional talent that is pre-qualified to work in the solar industry.
Some of the common careers that are in constant motion in this industry include roles such as:
Construction managers
Industrial production managers
Electricians
Plumbers
Steamfitters
Pipefitters
Sales representatives
Human Resource (HR) managers
Marketing professionals
This page is constantly updated by our time - showing you the available jobs in Pasitta
To apply, follow the career listing that you are interested in and click on the "Apply Now" button
The Cerebro Robot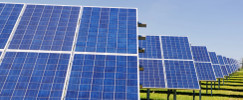 An Intelligent And Fully Autonomous Cleaning Service For Solar Plants.
The Cerebro Robot is our biggest innovation - and a product that is optimized to fulfill the cleaning needs of solar plants in a cost-effective way.
What started as a general idea of improving the cleaning efforts on solar panels led us to a lot of research and development into creating this robot. The Cerebro unit has a light structure without additional frames and guides - allowing it to clean solar panels seamlessly and perform the task over any systems, regardless of their specifications.
More